Airborne Ape: Coffee & Donuts
A coffee cup design gone somewhat out of hand.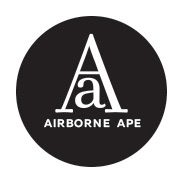 I just started this — brand, you might say. Or a project. I've named it 'Airborne Ape'. I have, for a while now, this instagram account,
luftaffe
. It's all about coffee, puns and alla prima drawings on paper cups. And this little piece of illustartion I did to step further into it and create a series of cups, a bit more versatile. And, to finally getting rid of the old pun, ("luft" meaning flight, "affe" — a monkey, an ape, in German), I renamed it, quite literally, with the same words in English.